Miami Child Visitation Attorneys
One of the reasons why divorce cases take so long to get resolved is due to the arrangements both parties must make for their children, specifically child visitation. No matter how old the child is, children need to have their parents in their life since their guidance can help them understand key world issues and become contributing members of society once they grow older. When children are unable to see one of their parents, it can have a negative impact on their overall well-being, especially if it continues for an extended period of time.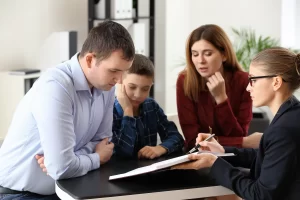 If you want to create an effective child visitation agreement that even your ex-spouse would agree with, it is best to partner with a trustworthy child visitation attorney. If your case is in Miami, FL, you can trust Miami Divorce Attorneys to guide you through Florida's policies on child visitation, enforcement, and modification. You will be assigned to one of our experienced and compassionate Miami child visitation lawyers, who will sit down with you to learn more about your situation and provide you with the right legal support.
Whether you want us to work on the time-sharing arrangement or you wish to get it modified or enforced, we will make the process as stress-free as possible so you can make the right legal decisions no matter what visitation arrangement will be made by the court.
Call Miami Divorce Attorneys at (786) 321-9064 for your Consultation with a Miami Child Visitation Lawyer!
Time-Sharing Arrangement in Florida
The visitation arrangements for parents are found under the time-sharing schedule in the parenting plan. The schedule will detail when a parent can spend time with their child. It is usually agreed during the settlement, with the final version to be approved by the court. The court will make sure that the time-sharing arrangement will be in the child's best interest and make sure it will strengthen parent-child relationships. It will also be made to be fair for all parties so both parents can abide by the schedule regardless of their circumstances.
Some of the time-sharing schedules that can be used for time-sharing arrangements include:
Equal time-sharing

Majority/minority time-sharing schedules

Summer break/holiday schedules
Miami Divorce Attorneys is highly rated in Miami, FL for offering personalized legal services for any family case, including child visitation. Our team will sit down with you to determine how these schedules can be adjusted to suit your situation and speak to the other party to cover their concerns.
Visitation for Grandparents, Relatives, and Third Parties
Child visitation rights can also be granted to grandparents, relatives, and related third parties to either the child or the parents in certain situations, but it can be challenged in court. Grandparents can get visitation rights when both parents are alive, regardless of their marital status. The court may also grant visitation rights if one or both parents deserted the child. However, visitation is not granted after one parent dies or if it is not in the child's best interest.
Meanwhile, relatives and related third parties can only get child visitation rights if the court sees due cause to allow it. Getting child visitation rights is a tricky battle for step-parents, especially if the child's biological parents are alive and do not approve the request. The court may only approve it if it is in the child's best interest. Relatives can be allowed to visit the child, but it can be overruled at any time by the court.
If the parent or guardian of a child is stripped of their parental rights or if the child was given up for adoption, they will not be able to request visitation rights. Previous guardians will also be prevented from getting visitation rights.
Our Miami, FL family law firm can help you check your legal options so you can see the child without violating the law. We can also be your legal representative during the hearing so your interests are heard by all parties.
Child Visitation Modification
After the original parenting plan is approved, it is not uncommon to be modified to match the changed circumstances of either parent and the child's needs. In Florida, the court must approve any modifications to the existing parenting plan, and a hearing will be held to see if the modifications should be approved.
Some of the circumstances that can warrant a change to the parenting plan include:
The child's current living conditions are harmful, or their environment is harmful

One parent is not adhering to the current plan

The parent is not physically or mentally fit to take care of the child

One parent is relocating to a new location

One parent has a criminal record

The child's needs have changed

The parent has a change in employment that reduced their time to spend with their children
Some time-sharing orders can be modified without a hearing, such as in extreme circumstances or emergencies. The court may also add additional factors to determine if a situation is an emergency. They will immediately modify the parenting plan if the emergency puts the child at risk of abuse or neglect. You can trust our Miami child visitation lawyers to handle your case and ensure the court supports your modification request. If you are the other parent and want to contest the modification request, let us know, and we will help you file the right evidence to support it.
Child Visitation Enforcement
Depending on the contents of the court-ordered parenting plan, there may be cases where one party does not honor and enforce it. Some parents may find the parenting plan too restricting that they would force the other parent to let them see their child for longer.
Others may fail to completely follow the agreement because of their circumstances or even prevent the other parent from seeing the child. A few may even ignore it completely, regardless of their parental obligations. Fortunately, the Florida Statutes have several protections in place to prevent this from happening and, when it does happen, give the right legal penalties to those who violate it.
If one parent refuses to uphold the time-sharing agreement without providing an acceptable reason, the court can order a make-up time. During this time, additional time will be given to the non-violating parent and the child. The violating parent may also be charged to pay legal restitution to the non-violating parent, who had to pay legal fees to get the time-sharing agreement enforced. Additional penalties such as community service, mandatory parenting courses, and contempt of court may be ordered depending on the severity of the violation.
Our Miami child visitation lawyers at Miami Divorce Attorneys can help you collect the necessary evidence showing the violation committed by the other parent and file it before the court. We can also be your legal representative during the hearing to ensure the ideal resolution for the case is reached.
Talk To Our Legal Experts Today
When a divorce is finalized, children will need reassurance that they can still get the support of both their parents regardless of who has custody of them. Without these reassurances, it can be difficult for them to adapt to their new reality and have a stable connection with the people around them.
Miami Divorce Attorneys will ensure you can create a child visitation plan that both you and your ex-spouse can agree on and guarantee that it will give the assurance your child needs, as well as strengthen your relationship with them. We will also deal with your case with care so it will not cause too much stress for you and your child.
Call Miami Divorce Attorneys at (786) 321-9064 for your Consultation with a Miami Child Visitation Lawyer!